Cytoskeleton dynamics and motility
Regulation of actin assembly, actomyosin networks architecture and mechanotransduction associated with cell-matrix adhesion
Cell migration is involved in many physiological and pathological processes. Force is produced by the growth and the contraction of the actin cytoskeleton [1]. To produce force, these actin networks must be anchored at the cell membrane by adhesion complexes [1,3,4]. These structures contain adhesive molecules that couple the extracellular matrix to the intracellular actin cytoskeleton via actin binding proteins (ABPs) [3,4]. This system acts as a molecular clutch that controls force transmission across adhesion complexes [3,4]. This molecular clutch is a complex interface between the ECM and the cytoskeleton made of multiple layers of regulated protein-protein interactions [4]. The multiple activities of the ABPs present in these structures play a critical role in the regulation of force transmission. In addition to the control of actin filament binding and polymerization [1-4], these proteins sense and respond to the force applied by the actomyosin cytoskeleton to adjust the anchoring strength [4,6]. Finally, some of these ABPs are involved in the activation of integrins (Figure
In the short term, our project aims at understanding:
1) the coordinated regulation of actin binding and assembly by the numerous ABPs present in adhesion complexes; 2) the resulting architecture and dynamics of the polymerizing and contractile actomyosin networks; 3) the mechanisms by which ABPs sense and respond to the force applied by contractile actomyosin networks; 4) the relative contribution of the various ABPs to integrin activation (Figure 1).
Recently we studied the activities and the mechanosensitive properties of the two interacting ABPs talin and vinculin. We first described the mechanism by which vinculin regulates actin polymerization (Figure 2) [3]. We also developed a microscopy assay with pure proteins in which the force generated by actomyosin cables stretches talin, immobilized on a micropatterned surface, to expose vinculin binding sites (Figure 2) [5,6]. Altogether, our results reveal the mechanism by which the talin-vinculin machinery reinforces actin anchoring to the adhesion complex [5].
In the long term, we are also interested in studying the interplay between the actin-associated machineries present in cell-matrix adhesion complexes, cell-cell adhesion complexes and at the leading edge of the lamellipodium.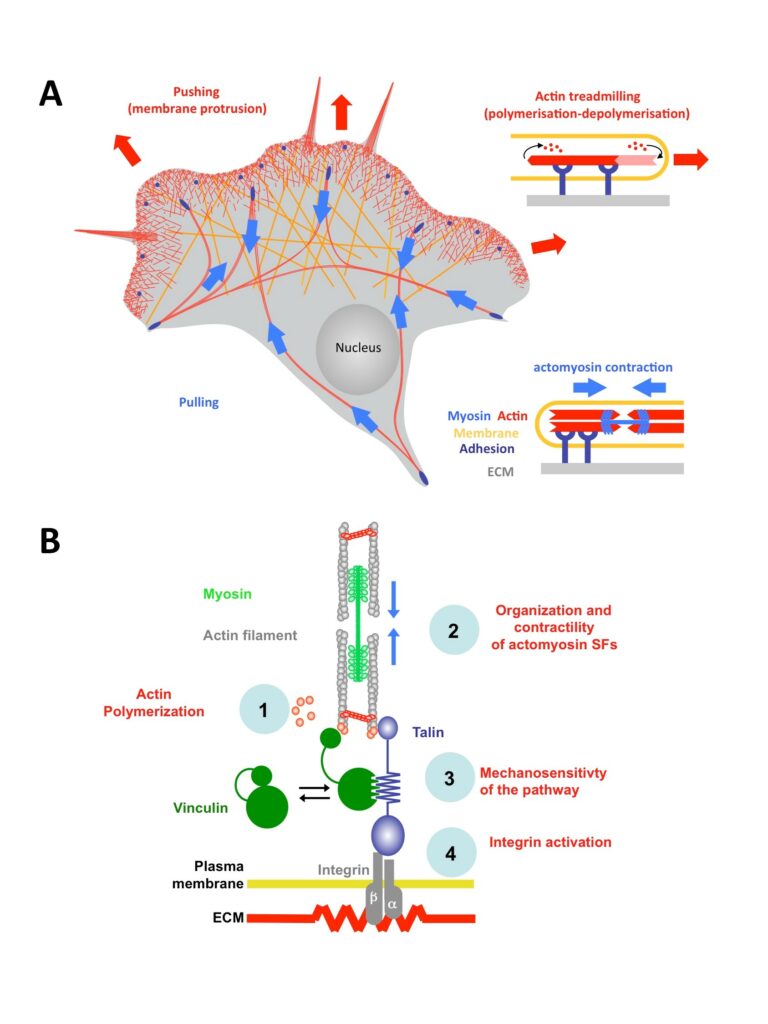 Figure 1. Mechanical coupling between cell matrix adhesion complexes and the actin cytoskeleton during cell migration. A. Force is produced by the growth (red arrows) and the contraction (blue arrows) of the actin cytoskeleton. To produce force, these actin networks must be anchored to extracellular matrix (ECM, grey) by adhesion complexes (dark blue). B. Adhesion complexes contain transmembrane integrins that couple the extracellular matrix to the intracellular actin cytoskeleton via actin binding proteins (ABPs, ex: talin and vinculin). This system acts as a molecular clutch that controls force transmission across adhesion complexes. ABPs present in these structures control actin filament binding and polymerization (1), which dictates the dynamics and ultrastructure of the contractile actomyosin networks (2). These proteins also sense and respond to the force applied by the actomyosin cytoskeleton to adjust the anchoring strength (3). Finally, some of these ABPs are involved in the activation of integrins (4).
To develop this project we use the following techniques/approaches:
Proteins and complexes are purified from tissues or expressed in bacculovirus/insect cells and E. Coli systems.
The effects of ABPs on actin polymerization kinetics are studied by fluorescence spectroscopy (Figure 2A)
The mechanism by which ABPs regulate actin polymerization is also studied by the direct observation of single molecules and single actin filament elongation in Total Internal Reflection Fluorescence (TIRF) microscopy (Figure 2B)
Systems of increased complexity are reconstituted in vitro with multiple pure proteins to study:
the regulation of actin polymerization
the architecture of actin networks from migrating cells or muscle cells
the dynamics of actomyosin-dependent mechanosensitive protein complexes (Figure 2C)
the regulation of transmembrane integrins in model membrane systems, such as giant unilamellar vesciles (GUVs) and supported lipid bilayers (SLBs), that reconstitute an artificial focal adhesion.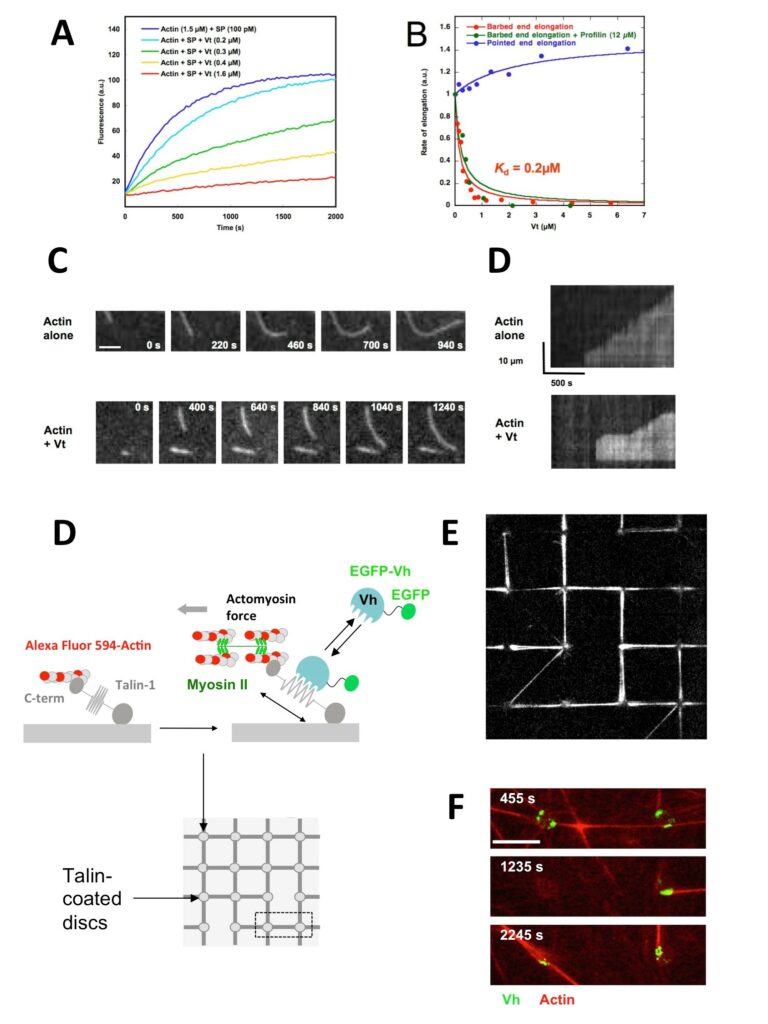 Figure 2. Approaches used and recent results obtained in this project. A. Kinetic of actin polymerization in the presence of increasing concentrations of the actin filament binding domain of vinculin (Vt). Actin polymerization is measured by the increase of fluorescence of pyrenyl-labelled actin [2]. B. The quantification of the rate of actin polymerization as a function of vinculin concentrations indicate that Vt inhibits barbed end elongation specifically [2]. C, Time-lapses showing the direct real-time observation of single actin filament elongation in TIRF microscopy in the absence (top) and in the presence (bottom) of the actin filament binding domain of vinculin (Vt). Actin filaments are visualized by the fluorescence of Alexa Fluor 488–labeled actin [2]. D, Kymographs corresponding to actin filaments presented in panel C. In the presence of Vt, the appearance of pauses indicate barbed end capping events [2]. E, Basic principle of the assay we use to study mechanosensitive protein complexes. In this assay, talin is immobilized in disc-shaped islands micropatterned on a glass surface. In the absence of mechanical stimulus, vinculin-binding sites are buried in talin rod domain. In response to the force applied by a contractile actomyosin network, talin is stretched. This mechanical extension of talin reveals cryptic vinculin-binding sites. EGFP-vinculin fluorescence on the glass surface reveals talin stretching. Actomyosin structures are visualized by the fluorescence of Alexa Fluor 594–labeled actin [5,6]. F, Self-organization of actomyosin cables, crosslinked by a-actinin, between talin-coated discs on a micro-patterned surface. The actomyosin cables are revealed by the fluorescence of mCherry-a-actinin. G, The attachment of contractile actomyosin cables, made of actin, myosin and α-actinin, to talin-coated discs, induces vinculin binding to stretched talin. The detachment of these cables allows talin re-folding and vinculin dissociation. In this timelapse, EGFP-vinculin is in green and Alexa Fluor 594–labeled actin is in red [5].
We have open positions for M1, M2 and PhD students. Candidates for a postdoc are welcome to contact us to discuss possible projects and fundings.
Marcelina CARDOSO DOS SANTOS
[1] Christophe Le Clainche and Marie-France Carlier
Regulation of actin assembly associated with protrusion and adhesion in cell migration.
Physiological Reviews (2008) Apr;88(2):489-513.
[2] Christophe Le Clainche, Satya P Dwivedi, Dominique Didry, Marie-France Carlier
Vinculin is a dually regulated actin filament barbed-end capping and side-binding protein.  
Journal of Biological Chemistry (2010) Jul 23;285(30):23420-32.
[3] Corina Ciobanasu, Bruno Faivre, Christophe Le Clainche
Integrating actin dynamics, mechanotransduction and integrin activation: The multiple functions of actin binding proteins in focal adhesions.
European Journal of Cell Biology (2013) (92) 339-348.
[4] Corina Ciobanasu, Bruno Faivre, Christophe Le Clainche
Actomyosin dependent formation of the mechanosensitive talin-vinculin complex reinforces actin anchoring.
Nature Communications (2014) 5:3095 | DOI: 10.1038/ncomms4095
[5] Corina Ciobanasu, Bruno Faivre, Christophe Le Clainche
Reconstituting actomyosin-dependent mechanosensitive protein complexes in vitro.
Nature Protocols (2015) Jan;10(1):75-89.  DOI: 10.1038/nprot.2014.200
[6] Corina Ciobanasu #, Hong Wang #, Véronique Henriot #, Cécile Mathieu, Annabelle Fente, Sandrine Csillag, Clémence Vigouroux, Bruno Faivre, Christophe Le Clainche
Integrin-bound talin head inhibits actin filament barbed end elongation.
Journal of Biological Chemistry (2018) Feb 16;293(7):2586-2596. doi:10.1074/jbc.M117.808204.
[7] Clémence Vigouroux, Véronique Henriot, Christophe Le Clainche
Talin dissociates from RIAM and associates to vinculin sequentially in response to the actomyosin force.
Nature Communications (2020) Jun 19;11(1):3116. doi: 10.1038/s41467-020-16922-1.
For all the publications of the Team click on the button below.