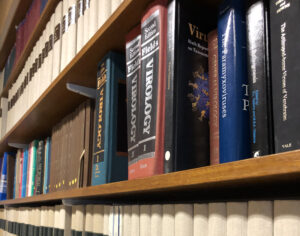 3888256
VIRO
2022
items
1
chicago-author-date
date
asc
year
Khalfi, Pierre, Rodolphe Suspène, Vincent Caval, Valérie Thiers, Guillaume Beauclair, Agnès Marchio, Claudine Bekondi, et al. 2022. "APOBEC3C S188I Polymorphism Enhances Context Specific Editing of Hepatitis B Virus Genome."
The Journal of Infectious Diseases
, January, jiac003.
https://doi.org/10.1093/infdis/jiac003
.
Jeger-Madiot, Raphaël, Romain Vaineau, Maud Heredia, Nicolas Tchitchek, Lisa Bertrand, Mathias Pereira, Océane Konza, et al. 2022. "Naive and Memory CD4+ T Cell Subsets Can Contribute to the Generation of Human Tfh Cells."
IScience
25 (1).
https://doi.org/10.1016/j.isci.2021.103566
.
Lapaquette, Pierre, Amandine Ducreux, Louise Basmaciyan, Tracy Paradis, Fabienne Bon, Amandine Bataille, Pascale Winckler, et al. 2022. "Membrane Protective Role of Autophagic Machinery during Infection of Epithelial Cells by Candida Albicans."
Gut Microbes
14 (1): 2004798.
https://doi.org/10.1080/19490976.2021.2004798
.
Glon, Damien, Géraldine Vilmen, Daniel Perdiz, Eva Hernandez, Guillaume Beauclair, Frédérique Quignon, Clarisse Berlioz-Torrent, et al. 2022. "Essential Role of Hyperacetylated Microtubules in Innate Immunity Escape Orchestrated by the EBV-Encoded BHRF1 Protein."
PLOS Pathogens
18 (3): e1010371.
https://doi.org/10.1371/journal.ppat.1010371
.
Vabret, Nicolas, Valérie Najburg, Alexander Solovyov, Ramya Gopal, Christopher McClain, Petr Šulc, Sreekumar Balan, et al. 2022. "Y RNAs Are Conserved Endogenous RIG-I Ligands across RNA Virus Infection and Are Targeted by HIV-1."
IScience
25 (7).
https://doi.org/10.1016/j.isci.2022.104599
.
Villalta, Alejandro, Alain Schmitt, Leandro F Estrozi, Emmanuelle RJ Quemin, Jean-Marie Alempic, Audrey Lartigue, Vojtěch Pražák, et al. 2022. "The Giant Mimivirus 1.2 Mb Genome Is Elegantly Organized into a 30 Nm Diameter Helical Protein Shield." Edited by Adam Frost.
ELife
11 (July): e77607.
https://doi.org/10.7554/eLife.77607
.