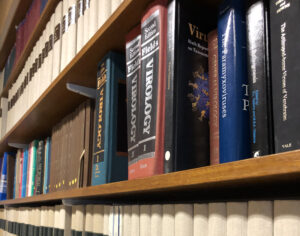 3888256
PTF
2023
items
1
chicago-author-date
date
asc
year
Cargemel, Claire, Sonia Baconnais, Magali Aumont-Nicaise, Magali Noiray, Lia Maurin, Jessica Andreani, Hélène Walbott, et al. 2023. "Structural Insights of the DciA Helicase Loader in Its Relationship with DNA."
International Journal of Molecular Sciences
24 (2): 1427.
https://doi.org/10.3390/ijms24021427
.
Singh, Dipesh Kumar, Rigel Salinas Gamboa, Avinash Kumar Singh, Birgit Walkemeier, Jelle Van Leene, Geert De Jaeger, Imran Siddiqi, Raphael Guerois, Wayne Crismani, and Raphael Mercier. 2023. "The FANCC-FANCE-FANCF Complex Is Evolutionarily Conserved and Regulates Meiotic Recombination."
Nucleic Acids Research
, January, gkac1244.
https://doi.org/10.1093/nar/gkac1244
.
Wu, Xia, Yaqun Liu, Yves d'Aubenton-Carafa, Claude Thermes, Olivier Hyrien, Chun-Long Chen, and Nataliya Petryk. 2023. "Genome-Wide Measurement of DNA Replication Fork Directionality and Quantification of DNA Replication Initiation and Termination with Okazaki Fragment Sequencing."
Nature Protocols
, January.
https://doi.org/10.1038/s41596-022-00793-5
.
Gomes, M., A. Fleck, A. Degaugue, F. Gourmelon, C. Léger, M. Aumont-Nicaise, A. Mesneau, et al. 2023. "Design of an Artificial Phage-Display Library Based on a New Scaffold Improved for Average Stability of the Randomized Proteins."
Scientific Reports
13 (1): 1339.
https://doi.org/10.1038/s41598-023-27710-4
.
Oliveira, Leonor, Nicolas Chevrollier, Jean-Felix Dallery, Richard J. O'Connell, Marc-Henri Lebrun, Muriel Viaud, and Olivier Lespinet. 2023. "CusProSe: A Customizable Protein Annotation Software with an Application to the Prediction of Fungal Secondary Metabolism Genes."
Scientific Reports
13 (1): 1417.
https://doi.org/10.1038/s41598-023-27813-y
.
Daugeron, Marie-Claire, Sophia Missoury, Violette Da Cunha, Noureddine Lazar, Bruno Collinet, Herman van Tilbeurgh, and Tamara Basta. 2023. "A Paralog of Pcc1 Is the Fifth Core Subunit of the KEOPS TRNA-Modifying Complex in Archaea."
Nature Communications
14 (1): 526.
https://doi.org/10.1038/s41467-023-36210-y
.
Messant, Marine, Umama Hani, Thaïs Hennebelle, Florence Guérard, Bertrand Gakière, Andrew Gall, Sébastien Thomine, and Anja Krieger-Liszkay. 2023. "Manganese Concentration Affects Chloroplast Structure and the Photosynthetic Apparatus in Marchantia Polymorpha."
Plant Physiology
, February, kiad052.
https://doi.org/10.1093/plphys/kiad052
.
3888256
PTF
2022
items
1
chicago-author-date
date
asc
year