NMR
Nuclear Magnetic Resonance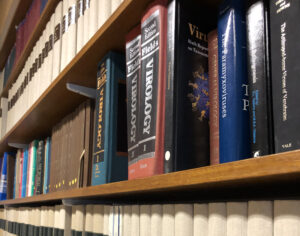 Multiple Site-Specific Phosphorylation of IDPs Monitored by NMR.
Julien M, Bouguechtouli C, Alik A, Ghouil R, Zinn-Justin S, Theillet FX. Methods Mol Biol. 2020;2141:793-817.
Proper chromosome alignment depends on BRCA2 phosphorylation by PLK1.
Ehlén Å, Martin C, Miron S, Julien M, Theillet FX, Ropars V, Sessa G, Beaurepere R, Boucherit V, Duchambon P, El Marjou A, Zinn-Justin S, Carreira A. Nat Commun. 2020 Apr 14;11(1):1819.
Sensitivity-Enhanced 13 C-NMR Spectroscopy for Monitoring Multisite Phosphorylation at Physiological Temperature and pH.
Alik A, Bouguechtouli C, Julien M, Bermel W, Ghouil R, Zinn-Justin S, Theillet FX. Angew Chem Int Ed Engl. 2020 Jun 22;59(26):10411-10415. 
Design on a Rational Basis of High-Affinity Peptides Inhibiting the Histone Chaperone ASF1.
Bakail M, Gaubert A, Andreani J, Moal G, Pinna G, Boyarchuk E, Gaillard MC, Courbeyrette R, Mann C, Thuret JY, Guichard B, Murciano B, Richet N, Poitou A, Frederic C, Le Du MH, Agez M, Roelants C, Gurard-Levin ZA, Almouzni G, Cherradi N, Guerois R, Ochsenbein F. Cell Chem Biol. 2019 Nov 21;26(11):1573-1585.e10. 
Recognition of ASF1 by Using Hydrocarbon-Constrained Peptides.
Bakail M, Rodriguez-Marin S, Hegedüs Z, Perrin ME, Ochsenbein F, Wilson AJ. Chembiochem. 2019 Apr 1;20(7):891-895. 
Structural analysis of the ternary complex between lamin A/C, BAF and emerin identifies an interface disrupted in autosomal recessive progeroid diseases.
Samson C, Petitalot A, Celli F, Herrada I, Ropars V, Le Du MH, Nhiri N, Jacquet E, Arteni AA, Buendia B, Zinn-Justin S. Nucleic Acids Res. 2018 Nov 2;46(19):10460-10473