The Flow Cytometry platform: over 25 years of service!
It provides more than 300 services per year for various research groups belonging to various supervisory bodies or private companies.
The facility's publications reflect the many collaborations developed with the various institutes of the Paris-Saclay community as well as with other partners such as INRAe, INSERM, IRD, CIRAD, French and foreign universities. His versatile experience and expertise in fluorescent probes make it possible to adapt cytometry to a wide variety of projects from public and private laboratories.
Its partnership with SPS (Labex Saclay Plant Sciences) contributes to an important activity in the field of plant biology.
The current activities of the service concern, for example:
Determination of the quantity of nuclear DNA for the study of cell cycles and endoreplication.
DNA assay for ecological and systematic research and variety improvement (ploidy analysis).
Monitoring of gene activity by expression of a reporter gene (such as that of "Green Fluorescent Protein" -GFP or other fluorescent proteins).
Measurements of the metabolic activities of the cell: dosage of calcium, pH, membrane potential, oxidative surges, glutathione …
Immunological analyzes.
Sorting of animal cells, yeasts, bacteria, protoplasts and cell organelles.
In addition to their consulting, reception, user training and service provision activities,
the 3 imaging-Gif platforms are involved in R&D projects in order to develop new expertise and offer new services.
Various collaborations with national and European teams position us as a reference platform and a major player in projects around endoreduplication in plant biology.
The geographical history of cytometry PF (within the Institute of Plant Sciences) and its scientific context have made it possible to develop expertise and a certain perspective on cytometry applied to plant biology. Endoreduplication in the development of tomato fruit (in collab. with C. Chevalier, INRAe Bordeaux) or even partial endoreduplication in vanilla species (in collab. With C. Jourda, CIRAD La Réunion).
The isolation of organelles is mainly carried out by centrifugation or electrophoresis techniques. The yield of these methods is often efficient, but the purity of the fractions obtained is often in question. One of the alternative methods could involve a cytometric approach. After successfully sorting nuclei from different plant species, we are working to develop a simple and robust protocol to sort other organelles such as chloroplasts, mitochondria and autophagosomes. Being able to carry out functional or "omics" studies on these sorted fractions would add real added value compared to conventional biochemical approaches.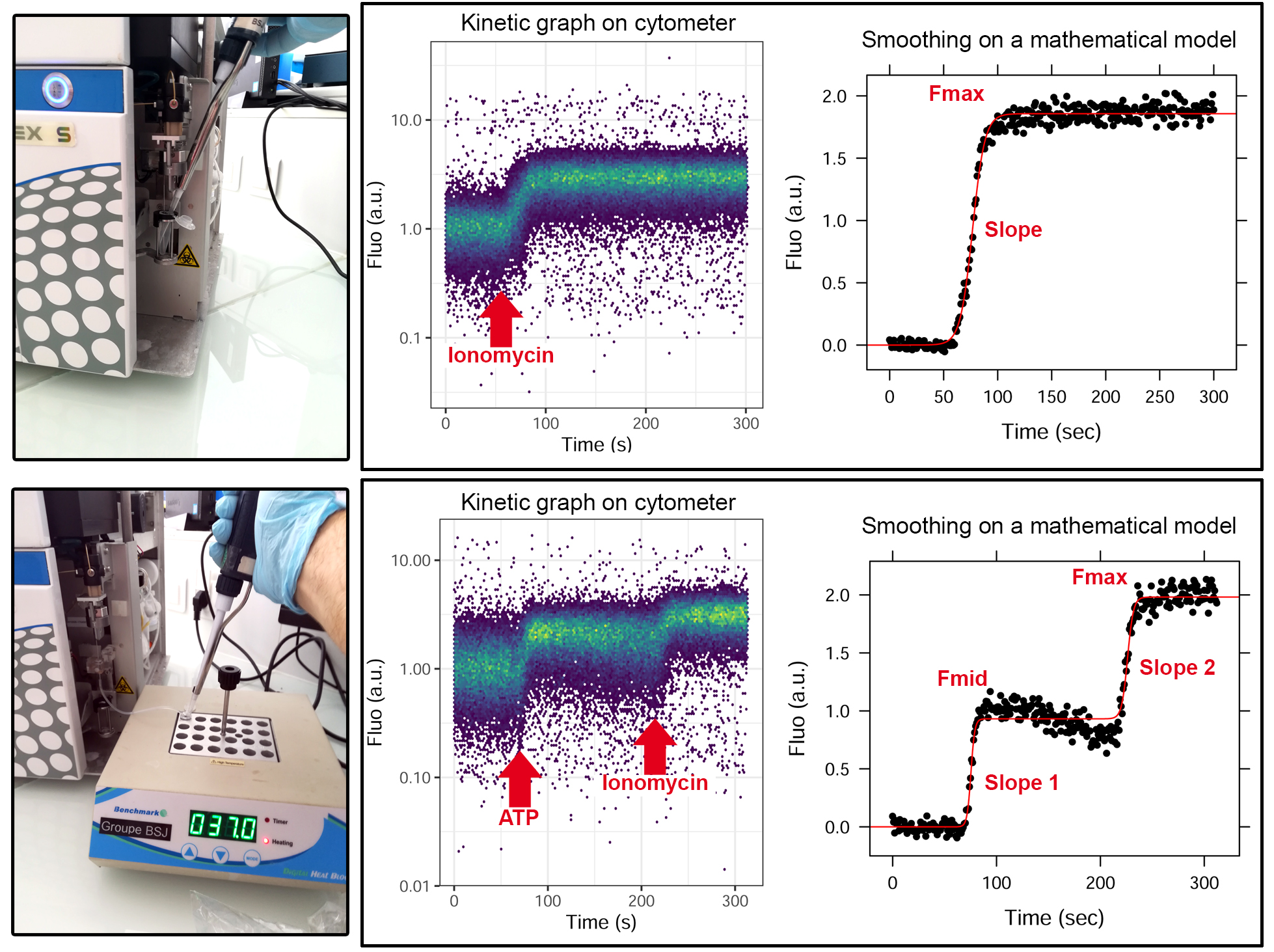 Fluorescent biosensors are molecules which, once introduced into living cells, yield a specific biological signal that can be measured by imaging or cytometry. The sensitivity and high throughput of flow cytometry allow the development of a whole panel of additional analyzes essential to understanding the observed biological process. The differences in physiological states observed in imaging can then be quantified in cytometry. Moreover, cytometry allows multiparametric analyzes offering the possibility of measuring several activities simultaneously cell by cell. It is thus easy to compare the results obtained, to deduce their interdependence or not, which makes it an essential tool for the study of cell signaling.