Function and architecture
of macromolecular assemblies
Principal Investigators: Sophie Quevillon-Cheruel, Stéphanie Marsin and Hélène Walbott
Engineers involved: Inès Li de la Sierra-Gallay and Magali Aumont-Nicaise
PhD student: Claire Cargemel
In all living organisms, replicative helicases are essential proteins that unwind double stranded DNA in front of replication forks. The loading of the helicases depends on accessory proteins such as DnaC and DnaI which are two well characterized loaders in bacteria. However, in most bacteria these loaders are replaced by the unrelated and essential protein DciA, recently discovered by Jean-Luc Ferat (Genomes Department I2BC). The goal of our work is to understand the molecular mechanisms that lead to the loading of dciA-replicative helicases on DNA, and to describe at the molecular level the induced structural rearrangements. The crystal structures of DnaB/DciA obtained so far combined with biochemical and biophysical data demonstrated the functional similarities between the dnaC/I– and the dciA-helicases, but also highlighted differences in their biochemical activities (loading, translocation, ATPase activity, 3D structures at different steps…).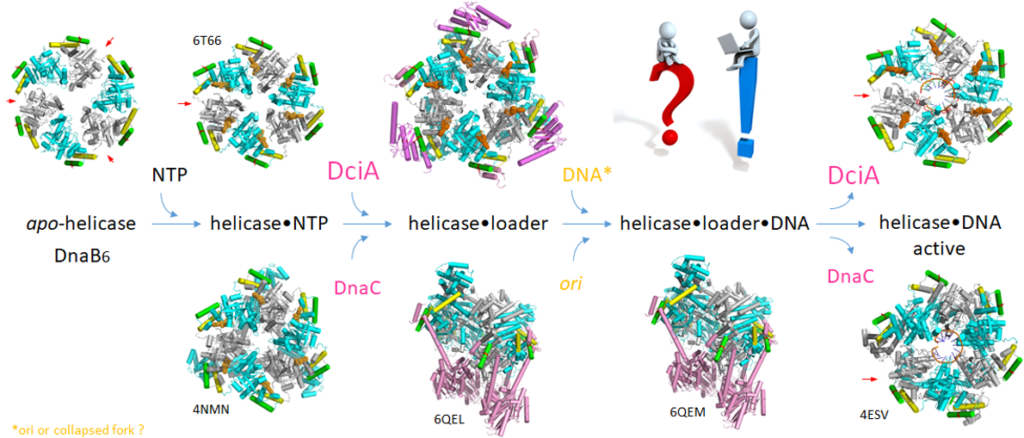 The structural data revealed unexpected similarities for the mode of interaction between the helicase and DnaC or DciA, despite the total lack of structural homology between these two proteins.
This discovery opens opportunities for the development of mimicking peptides that prevent the interaction between the two proteins. These peptides could prevent the replication of the genome and hence eradicate pathogenic bacteria.
Marsin S, Adam Y, Cargemel C, Andreani J, Baconnais S, Legrand P, Li de la Sierra-Gallay I, Humbert A, Aumont-Nicaise M, Velours C, Ochsenbein F, Durand D, Le Cam E, Walbott H, Possoz C, Quevillon-Cheruel S*, Ferat JL*.
Study of the DnaB:DciA interplay reveals insights into the primary mode of loading of the bacterial replicative helicase.
(2021) Nucleic Acids Res. 49(11):6569-6586.
https://pubmed.ncbi.nlm.nih.gov/34107018/
Chan-Yao-Chong M, Marsin S, Quevillon-Cheruel S, Durand D, Ha-Duong T.
Structural ensemble and biological activity of DciA intrinsically disordered region.
(2020) J Struct Biol. 212(1):107573.
https://pubmed.ncbi.nlm.nih.gov/32679070/
Brezellec P, Vallet-Gely I, Possoz C, Quevillon-Cheruel S, and Ferat J-L
DciA is an ancestral replicative helicase operator essential to bacterial replication initiation.
(2016) Nature Communications. 7:13271.
Principal Investigator: Sylvie Nessler
Ingeneers involved: Noureddine Lazar, Inès Li de la Sierra-Gallay
Former students involved: Rosa Granha, Samira Zouhir, Antoine Talagas, Jordhan Thuillier
The search for new antimicrobials has highlighted the therapeutic potential of inhibitors of bacterial cell-cell communication systems designated as quorum-sensing (QS) systems. Through secretion of diffusible signal biomolecules called pheromones, QS coordinates the behavior of a whole community of bacteria in response to environmental conditions. In Gram-positive bacteria, re-internalized peptide pheromones directly control the activity of cytoplasmic transcriptional regulators.
These quorum sensors control important bacterial processes such as virulence, biofilm formation, necrotrophism and sporulation. We structurally and functionally characterized several Gram-positive quorum-sensors and showed that they form a conserved family called RRNPP, characterized by a TPR-type peptide-binding domain and a HTH-type DNA-binding domain.
Using structural and functional analyses, we showed that, despite divergent protein and peptide sequences, the binding mode of the peptide is conserved among RRNPPs. The activation mechanism is however specific to each member of the family.
Our objective is now to exploit our knowledge on RRNPP-type QS regulators to design inhibitors based on synthetic peptide derivatives.
Herman van Tilbeurgh : principal investigator
Dominique Liger : associate professor
Bruno Collinet : associate professor
Sylvie Auxilien : researcher
Noureddine Lazar : researcher
Charles Cirio : PhD student
Raoudha Dammak : technician
The N6-threonylcarbamoyl adenosine modification (t6A) is one of the few universally conserved tRNA modifications. It adds a threonylcarbamoyl moiety on position 37 of tRNAs that read ANN codons. In vivo, t6A is important for start codon recognition and reading frame maintenance. The t6A system mobilizes partially different sets of proteins in bacteria on the one hand and archaea/eukaryotes on the other. In E. coli, apart from TsaD (=Kae1) and TsaC (=Sua5) two more proteins are essential for the t6A modification : TsaE and TsaB. Our recently determined 3D structure of the ternary TsaB/D/E complex partly explained how this sophisticated machinery might work. The main objective of this project is to further unravel the molecular/mechanistic aspects of the bacterial t6A system. The t6A system is essential for most bacteria and therefore offers opportunities for antibiotics development. We are collaborating with chemists to develop compounds that specifically block the t6A activity in bacteria.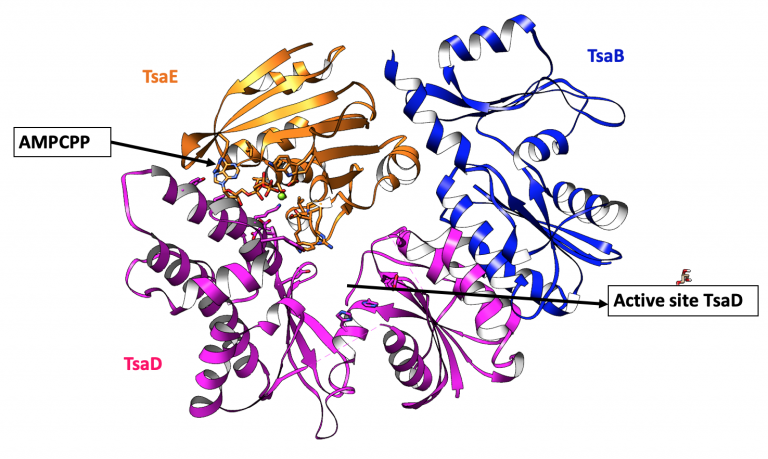 In archaea and eukaryotes, this modification is catalyzed by Kae,1 which is the homolog of bacterial TsaD. Kae1 is part of a stable multiprotein complex KEOPS, together with four other proteins : Gon7, Bud32, Pcc1 and Cgi121. Particular mutations in the five human genes coding for all these subunits (Gon7, TP53K, OSGEP, LAGE3 and TPRKB) are responsible for the Galloway-Mowat syndrome (GAMOS), a clinically heterogeneous autosomal recessive disease characterized by early-onset steroid-resistant nephrotic syndrome and microcephaly. Our structure of a partial human KEOPS demonstrated that these mutations are spread out over the complex. Using biochemistry, biophysics and structural biology (crystallography and cryo-EM) we endeavor to understand the molecular underpinning of this serious disease and in particular the role of the 4 other subunits of the KEOPS complex. Another main objective of this project is therefore to unravel the molecular/mechanistic aspects of the t6A system in eukaryotes and archaea.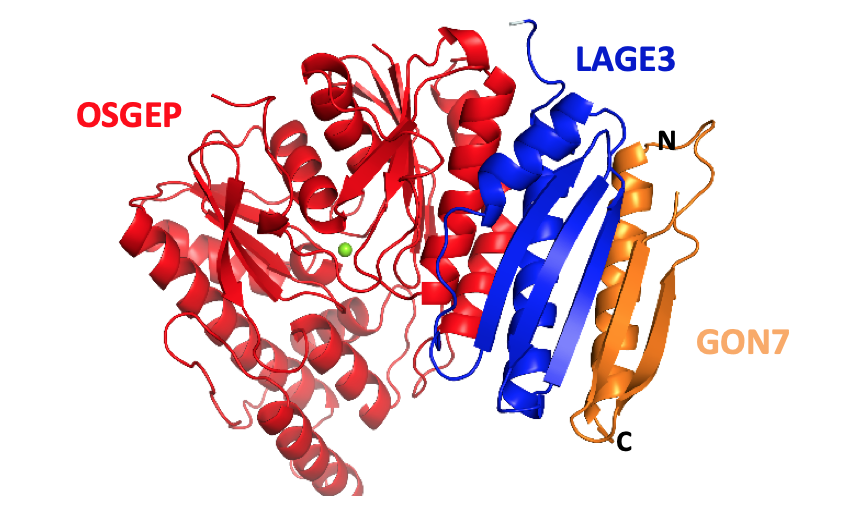 Team members involved: Ines Li de la Sierra-Gallay, Noureddine Lazar & Herman van Tilbeurgh
RnaseZ is an essential and highly conserved protein, present in bacteria, archaea and eukaryotes. The enzyme is a 3' endonuclease that cleaves precursor tRNAs that are missing the CCA motif next to the discriminating base. Two RnaseZ types are present in eukaryotes: a short and a long form (RNaseZ(L)). The long form is composed of two domains: a C-terminal domain that contains the catalytic activity and an N-terminal domain that modulates the specificity of the enzyme. Our crystal structure of Trz1, the yeast long form RnaseZ, has shown that the two domains have a common fold, very similar to that of the short form RnaseZ (1-3).
Trz1 from yeast was shown to form a tight complex with two other enzymes, Nuc1 and YMR099c. Nuc1 is an endonuclease and an ortholog of the human ENDOG, involved in the recombination of mitochondrial DNA and in cellular apoptosis. YMR099cis hexose-phosphate mutarotase, whose structure was also determined in our team (4). Despite the fact that the complex very likely exists in cellulo, its biological function remains a mystery. Our team endeavors to obtain the cryo-EM structure of this complex (5). Structural data will be exploited to unravel the function of this very tight complex using biochemical and cellular approaches.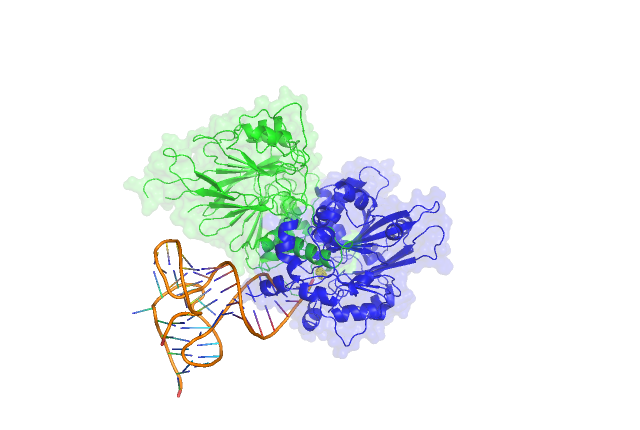 Team members involved: Karine Blondeau, Noureddine Lazar, Ines Li de la Sierra-Gallay & Herman van Tilbeurgh
The Leptosphaeria maculans ascomycete fungus is the causal agent of one of the most devastating colza.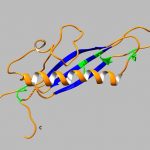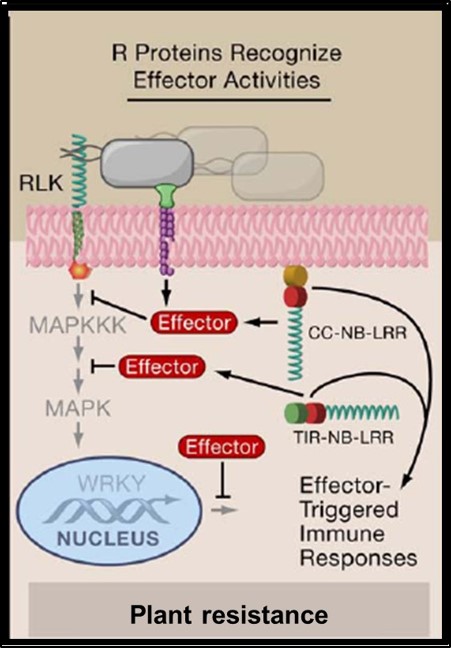 During infection, the Leptosphaeria maculans pathogen secretes an arsenal of small proteins (SSPs) or effectors, capable of modulating the response or immunity of the plant and of facilitating fungus infection. Some of these effectors, called avirulence effectors (AVR); are involved in a specific response of the plant against the infection (ETI for effector triggered immunity). The AVR proteins are targeted by plant resistance proteins (R). The avirulence proteins are usually small cysteine rich proteins that do not display sequence homologies with other proteins and hence their biochemical function is therefore difficult to predict. Also, their interactions (direct or indirect) with plant target proteins are poorly understood. The 3D structure determination of the avirulence effectors has proven to be instrumental for the comprehension of their biological function. We combine structural and biochemical approaches to study the avirulence effector AvrLm4-7 (Blondeau, Blaise et al., 2015). A few more effector protein structures have been determined since, using procaryotic or eukaryotic expression systems. These structures were very informative on the mutual functional relationships of these effectors. A new project has been initiated to study the interactions of these effectors with their resistance and or target plant proteins.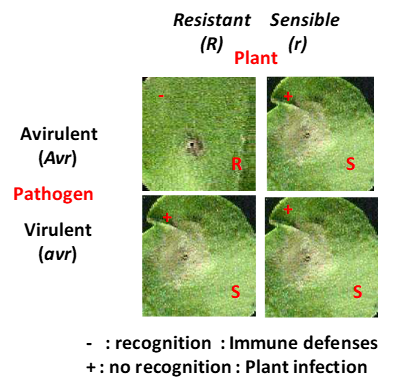 Biochemistry and Molecular Biology