Molecular Microbiology
of Actinobacteria
Our team is interested in the specialized metabolism of Actinobacteria
Specialized metabolites are small organic molecules produced by plants and micro-organisms. As opposed to primary metabolites, specialized metabolites are not essential to the survival of the producing organism. Yet, they thought to confer a fitness advantage to the producers in their ecological niche.
Our work focuses mainly on the specialized metabolism of Streptomyces species. Streptomyces are Gram+ filamentous bacteria ubiquitous in Nature. Streptomyces bacteria possess a linear, GC-rich chromosome of 8 to 10 Mb. They have a complex morphological cycle: the germination of a spore gives rise to a vegetative mycelium that develops in close contact with the nutritious substrate. This first phase of growth is followed by a pause called the transition phase. During this pause, the bacteria are thought to assess the nutritional content of its growth medium. If the nutrients are still abundant, a second phase of vegetative growth will follow the first one but if nutrients are scarce, an aerial mycelium will arise from the vegetative mycelium. The tip ends of the aerial hyphae will then differentiate into spores. This morphological differentiation, triggered by a nutritional limitation, is intricately linked to a metabolic differentiation resulting in the production of molecules called "secondary metabolites" presenting a large diversity of chemical structures and biological activities (antimicrobial, antitumoral, immunosuppressive or herbicidal activities for example).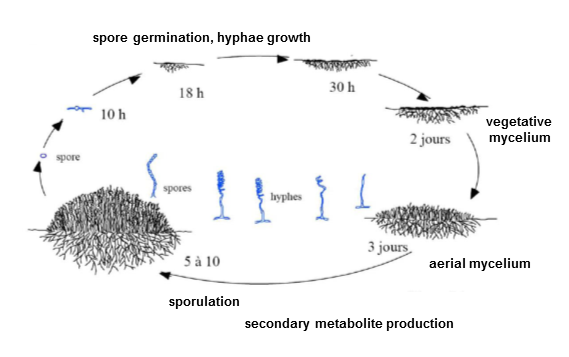 Streptomyces development cycle
The research carried out by the team mainly concerns the biosynthesis of specialized metabolites and the engineering of these pathways by synthetic biology.
For all the publications of the Team click on the button below.